Having trouble squirreling away funds for winter? I used to be the same way, but by using these 3 easy steps, I've tripled the amount going into (and staying in) in my Savings Account. So if you're wanting to finally take that long overdue vacation, make a down payment on a home, or just have a larger rainy day fund – Use these simple steps to increase your savings.
Disclaimer: This post contains affiliate links. If you make a purchase using one of these links I will receive a small commission, this comes at no cost to you. Thank you for supporting this blog.
1. Separate your Checking and Savings Accounts.
Chances are you hold all of your accounts at one financial institution. Let's be honest, this is the most convenient way to bank. However, this convenience also makes it simple to transfer funds away from savings for unnecessary purchases. I know I've been guilty in the past of wanting something beyond my normal 'spending limit' and transferring money from my savings to my checking right there in the store. Only to regret the dip in my savings account later on.
The best way to keep this from happening is to remove the temptation. Find a financial institution, preferably one with high-yield interest rates, and move your savings over. This will give you at least a pause at the register. When you have to spend some time thinking about major purchases, you're less likely to spend money on things you don't need.
2. Credit Unions or Internet Banks will Increase Your Savings more than a traditional bank.
Credit Unions
I'm a big fan of credit unions. I've worked in the credit union industry, and I trust them hand over foot more than a regular bank. The list of benefits is never-ending, but we'll stick to what affects the growth of your funds for now. When you join a credit union you become a member, not a customer. Each and every credit union member holds a share of the institution. What does this mean for you? It means you have a greater say in what happens to your money, and more importantly, the Credit Union has a vested interested in pleasing you. Profits made by credit unions go back into the pockets of their members rather than a board room full of stakeholders. This is why you can typically get a larger interest rate on your accounts (and lower interest rates on your loans) with a credit union.
Internet Banks
Internet banks are even more beneficial for a savings account. If you're looking for a truly High-Yield savings account (and you should be), online banks are the way to go. Because they lack brick and mortar locations, they are able to cut the operating costs that a traditional financial institution has dramatically. This means far larger payouts for their customers on savings, money markets, and even checking accounts. Axos Bank, for example, offers a rate of up to 2.45% on their high yield savings account – in comparison, my credit union savings account currently earns 0.3% (which is honestly higher than many traditional banks).
While some might feel inconvenienced by the fact that they don't have a physical location to quickly access funds, this is actually a benefit if you're trying to increase your savings. Higher Interest rates and a less 'on-demand' usage of your savings will inevitably increase the amount you are able to put away.
Tip: If you still want easy access to the funds, but are excited by the additional interest rate, look into a money market account. The financial institution of your choice will provide you with checks or a debit card to go along with it. Although monthly transactions are more limited (this is a good thing), your funds are available quickly if needed.
Either of these options is great for a secondary financial institution. My best advice, however, is to use them both and cut out the traditional bank. I currently use a credit union for my main accounts, checking, bill pay, and loans. Then I use an internet bank as my secondary account (for my larger sum savings), to get the most out of the higher rates. However, if you are a person who never uses cash, having two separate internet banks to separate your funds will yield you higher interest rates all around. And if you just can't live without the physical banking experience, using two credit unions is acceptable as well.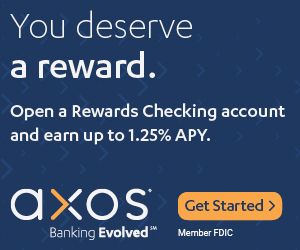 3. Split Your Payroll Direct Deposit
The best way to save more money is to do it without thinking about it. Once you have opened a savings account at your secondary institution, set up a portion of your direct deposit(s) to go directly into your savings. Think of it as a bill you owe yourself. When your check hits, it will be just like insurance or taxes – out of sight, out of mind.
When you treat your savings as a bill or a payment, it becomes mandatory. You take away all excuses not to save because you've made it just as important as everything else. Now I know you might be thinking 'but obviously groceries and utilities are more important than savings', and you know what? You're right. Savings are not, however, less important than eating out, shoe shopping, or going to the movies.
So sit down and make a budget. If you only have a spare 20 dollars a check to put back, then make that 20 dollar direct deposit into savings. Assuming you get paid bi-weekly that's an extra 480 a year you might not otherwise have. Chances are though you can afford to put back more. 100 per paycheck will save you 2400 per year. If you can swing 500 a check, you're looking at 12,000 in a year. Meanwhile, all these funds are gaining you more money in interest just by sitting there. No real effort required.
What do you do to increase your savings? Have you tried any of these tips? Let me know in the comments!