How to Start A Profitable Blog
So you've seen all the hype. You're tired of the 9-5 life, and you're ready to take on a blogging adventure. Now what? There is a ton of information out there. I'll walk you through it step by step, and I'll make sure not to leave out the mistakes that could hold you back. This is how to start a profitable blog in 2019. This is a comprehensive guide, so I recommend bookmarking it for later use.
Disclaimer: This post contains affiliate links. If you make a purchase using one of these links I will receive a small commission, this comes at no cost to you. Thank you for supporting this blog.
Research First
Read other blogs, it doesn't matter what niche. Get a good look at what other bloggers are doing. Now make a list of what grabs, and holds your attention. What makes you want to stay? Do the same for things that make you want to leave. Judge me, judge other bloggers, and take note of things you want to avoid. If you want to start a profitable blog, researching what profitable bloggers are doing first will go a long way.
Narrow down your Niche
Pick something that you love to learn about. Writing a blog takes research, and you will get bored if you don't enjoy what you're writing about. Having a background in the subject helps, but it's not necessarily a deal-breaker. Don't get hung up on the small stuff, the niche you're thinking about, it's not too big or too small. There is enough audience to go around for the larger niches, readers love having fresh opinions. Do you get all your news from one source? I'll bet this isn't the only 'How To' guide you've read about starting a blog. If your niche is smaller, that's great too. You are not the only person who shares your interests, and you'll hold a unique corner on the market.
The most important thing is that you've got a lot to write about. Write down at least ten ideas for potential posts. If you're struggling to come up with ten, you might look elsewhere, jump back to the research phase for inspiration if you need to. If you can't continually write and enjoy what you're writing about, you will burn out. Burnout is the enemy.
Take your audience into account, and look into affiliates that are available for your market. This is something I absolutely regret not doing to start. You'll need an active site with some quality content to apply for most affiliate networks, but knowing what brands you can/want to promote before you get started will give you a huge leg up on being profitable. If you choose a niche with no products to market, you're going to have a tough go of it.
Find a niche you enjoy, but don't forget to look at your blog as a business.
Choose a Domain Name
In my experience, your domain name matters less than the content you provide. Once you grab your audience's attention they're not likely to care much what the domain name is. That being said, try to be relatable to your niche, and I recommend choosing something easy for your readers to remember. Make sure your domain name is available before you get too attached as well.
ProTip: Look at social media as well. You'll likely want to have a consistent Twitter handle and Facebook/Pinterest username. It's not mandatory, but it's something I wish I'd taken into account when creating this blog. I had to get creative when setting up my socials due to some poor planning to start.
Choose a Hosting Plan
There are a lot of options for hosting, and lots of bloggers have opinions on the subject. I am only going to focus on WordPress.org sites because it's without question the best option for customization, and ease of use to start a profitable blog.
I went super cheap with my hosting, and it worked out great for me. Easily grabbed a domain name from GoDaddy for .99 cents and signed up for their managed WordPress hosting $1 a month for the first year. It cost me less than 15 dollars to get this blog up and running. Rates will, of course, be higher when I renew next year but working with GoDaddy has been so hassle-free that it will absolutely be worth it.
If you're looking for another option, and one that has a good affiliate program for monetization, WPEngine has an amazing platform. They also include StudioPress themes with some of their hosting plans, which can save you some bucks down the line.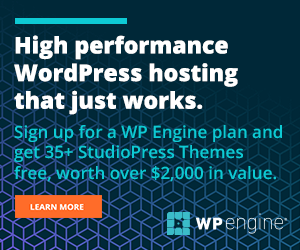 ProTip: I recommend getting an SSL certificate if you want to try and increase traffic right away, readers (especially on desktops) will get a notification that your site is unsafe if you do not. However, if you are just sticking your feet in the water, waiting to purchase one can sometimes result in a steep discount. I got my SSL certificate 3 months after starting my blog at a 40% discount from GoDaddy.
Choose A Theme
This can take some time because the options are overwhelming. Decide if you want to go the free route or the paid route. There are pros and cons to both. The obvious Pro to getting a free theme is that there is no upfront cost, but the list of cons can be lengthy. Namely, most free themes don't have the customization options and support you'll likely want down the line when you have more content. If you're thinking about sticking with a free theme, for now, that's okay too but you should know that changing themes when you have a ton of content can be a giant headache.
These are my recommendations for premium themes, with great support:
Studio Press – They offer a wide variety of responsive and customizable themes, you're sure to find something that will suit the needs of your blog.

Elegant Themes – There is a reason Divi is the most popular WordPress theme available. Elegant Themes has a great track record for support, and you won't find a theme with more options and flexibility. It comes with a full library of layouts and designs, visual editing, drag and drop building, and so much more.

Truth Bomb: I still use a free theme. It took an obscene amount of time and effort to get it to look the way I want, and to transfer over all of my content from my original theme (which didn't give me the features I now need.) Plug-in compatibility is one of the biggest headaches when changing up your theme as well. This is why I recommend using a highly customizable theme from the start. However, using a free theme is not a bad thing, and it's what I currently run on this blog.
Start a Profitable Blog by Implementing SEO Techniques Early
I know it's intimidating. I won't pretend that the world of SEO is full of candy and unicorns. It's full of a ton of confusing jargon, and it's not an easy technique to master. This is why you need to start early. Begin before you ever write a post. If you want to start a profitable blog, you'll want to use SEO techniques as soon as you start customizing your new Theme.
Install Yoast SEO – It's a beautiful tool that does a ton of the leg work for you. You'll get an SEO analysis rating and a Readability analysis rating that will keep you in the SEO mindset on every page and post. The free version will do, I honestly use it on every single post. I hate to say I'd be lost without it, but it's true. They offer a pro version as well, which I have not used, but based on how much help I get from the free version, I'd recommend it.
You'll need to create a tagline, meta descriptions, and then an about me page. Use Yoast and make sure these are all SEO friendly from the get-go.
I cannot stress this enough. I jumped into this blog without optimizing from the start and going back through every inch of my previous posts and pages has been painstakingly time-consuming. It is necessary to have a good SEO strategy from the start, you will regret it if you put this off.
Get Ready to Promote Your Blog
I strongly advise doing this before you start writing content. You're going to want to get your content out to as many people as possible, so start a network now. Set up at least a couple of social accounts for your blog. I use Pinterest, Facebook, Twitter, and Instagram. It is not necessary to use them all, two should suffice to start a profitable blog. Use Pinterest – the other social account/s you choose should be based on where you think you'll get the most engagement. Pinterest will likely bring you 2 to 3 times the amount of traffic that you get from any other source. I would recommend looking into Pinterest SEO as well.
Facebook is my next largest traffic driver, and it's not because of my blog page. Join some groups now, and familiarize yourself with the blogosphere. Facebook groups for bloggers are immensely helpful in driving traffic, and more importantly, getting feedback on your new blog. Search for general blogging support groups, as well as niche-specific ones. Most will have daily threads that allow you to get more exposure, social shares, and comments. Make sure to reciprocate, not just because its a rule, but because building relationships with other bloggers will help you get your questions answered and give you opportunities for guest posting and roundups later on.
Pro Tip: If your theme doesn't provide one (most free themes don't), install a social sharing plugin. Having social icons at the end of each post makes it simple for readers to share your content. This will help drive more traffic to your blog.
Set up Analytics
You want to have a good idea of how much traffic your blog is seeing, this will help you determine how your marketing and promotion efforts are panning out. Sign up for Google Analytics, and grab a free WordPress plug-in. I use Monster Insights, which if you like, you can upgrade to a paid version for more in-depth statistics.
Make Your Blog Legal
Make sure you set up a page for a Privacy Policy and one for Terms and Conditions. You can purchase templates, have them drafted by a lawyer, or at the very least find a free template or generator through Google. Not only do you want to avoid getting sued, and many of the services that you will want to use require that you display these pages.
Start a Profitable Blog By Writing Quality Content
By now you've got a good list of at least 10 post ideas as a jumping-off point. You know what your audience is looking for, and you have a pretty good idea of how to start promoting your posts. Get to it. For me, writing is the fun part. I get better and faster at content writing with every post, and I always learn something new. Don't be alarmed if it's time-consuming at first. In fact, if you're a new blogger, you should probably be alarmed if it's not. Do your research, no one wants to read a post that has inaccurate information, or feels half-assed. It's okay to take your time.
Make sure you're using SEO, hopefully for both Pinterest and Google when you're writing your posts and descriptions. If you're anything like me, this will save you a lot of preventable anxiety. I also advise keeping affiliates in mind, it may be too early to apply for affiliate networks now, but when the time comes you'll want to add those links to previous posts. Having a good idea of what and where you want to promote your affiliates will be a big long term time saver.
Pro Tip: Create several Pinterest friendly images for every post. As we discussed earlier, Pinterest is a huge traffic driver and you'll want to have images tailored to pinners tucked throughout every post.
Drive Traffic To Your Blog
Remember those social accounts we set up? Now is the time to start taking full advantage of them, starting with your first post. Share your posts on facebook groups (don't forget to reciprocate). Create a Pinterest board specific to your blog, and pin every post there. Get involved in group boards and post your (relevant) content there as well if possible. I also recommend commenting on at least 5 other blogs a day.
Pro Tip: Get familiar with Tailwind now. It will schedule your Pinterest pins, and you can join tribes. Tailwind Tribes are a traffic generating machine. During the first day of the free trial, I nearly doubled my Pinterest reach. You'll want to use this service. If you don't believe me sign up for a 30-day free trial, no payment information needed. Don't love it? There is 0 obligation to move forward.
Monetize to Start a Profitable Blog
The moment you've all been waiting for. Once you have 10 to 12 quality blog posts, it's time to start applying for ad and affiliate networks. My advice? Go big or go home. Apply everywhere, and know that not every network will be right for you. Test ad locations and affiliate links. Every blog will get a different result from different networks. Once you have a good idea of what sticks, you can scale back on the ones that aren't working out for you. This being said, do not over-promote.
Remember that your readers are looking for good quality content. They are also looking for good quality products. If you promote products only for the sake of making a quick buck, your audience will know and they might not come back, this is bad for long-term profitability. No one wants to be bombarded with irrelevant advertisements.
If you looking for a short run down for on monetization check out 3 Simple ways to monetize your blog.

Here is a list of a few options to get you started:
Visual Ad Programs (choose one):
Affiliate Networks (choose many):
Amazon Associates
ShareASale
FlexOffers
CJ Affiliate
ProTip: Many companies have their own affiliate programs. If you're interested in working with a specific company, check their website for affiliate opportunities.
I hope this has been a helpful guide on how to start a profitable blog. Let me know in the comments if you have questions, or if there is anything I left out!